Let's discuss all Online Arbitrage topics here. Anything from buy lists, to VA's, and discount codes galore!
Is there anyone who has been successfully using a VA to manage their selling account for years and has never been linked to another account and supended?
The best tip for anyone using or recommending RA software or tools is to obtain affiliate links. This way, you can assist other sellers in getting discounts or free trials while also earning some money from it

Definitely avoid any guru courses, guru social media groups or wholesale lists.
People offering those services are making full time income out of you and not selling on Amazon, where they are just turning funds loaned from Amazon Lending with profits in pennies, just so they can have convincing screenshots to share with their sheep.
You are correct, there are a whole lot of scammers out there. However, there are some good ones too. I have been a part of several groups that are paid mentorship's, and now we offer this ourselves. Plus we do offer services and courses, but we are also sellers.
The difference between us and scammers is that we have lived it, breathed it, ate it for breakfast lunch and dinner for years!!

We've had ups and downs, used services and tools, done everything on our own as well. It's a tough grind getting up to 7 figures, but we know how! And we did it with 95% RA.
The people I involve myself with are legit sellers that also provide all of these other things mentioned, just all in there own niches. I absolutely despise the ones who steal hard working sellers like ours material and scam people with saying they're gurus. We work tirelessly to provide others with support, and at the end of the day, we still love it!
The other good thing about providing Amazon services and courses is we get to provide work for VA's that can have a tough time earning a living where they live. The opportunity to provide employment for others is a blessing in itself.
It sure can help with providing extra streams of income! Which is a great thing for people trying to scale their AMZ business.
We personally have used a VA for years and never had an issue. We also use VA's for our services listing and account maintenance services. We use Upwork and VA placement to employee them. It's all about setting up your user permissions correctly.
How did you secure funding to start your RA business? Most gurus are taking loans from Amazon.
My partner and I both will tell you it is a tough road ahead if you need to go through loans and credit. It's better to start small and build with your own money. Depending on how fast you are trying to grow, you can start with as little as $500 doing RA/OA. If you make sure you know how to source well you can keep rolling over your profits for a while. The longer you can keep feeding your inventory without taking profits, the stronger your foundation will be. We really don't recommend anyone starting an RA model to use more than $2,000 in the beginning. Some people genuinely don't end up liking it, and some just won't really apply themselves fully and lose to much in the beginning. It is for reasons like this you shouldn't start with too much so you can't hurt your finances too bad if it doesn't work out.
We used credit card and loans and had a very hard time battling interest rates plus amazons take, plus the ups and downs of learning how to choose faster and more profitable selling products. All of those -%'s stack against you fast.
I will say that Amazon loans had the cheapest interest rate of anything we used though.

Ultimately to scale your business you will need to build solid business credit. U-line is a company we order shipping supplies through that helps grow bc, for example.
Thanks for dropping your wisdom here! Seems like you have a lot of expertise to share

I know some folks who've been selling on Amazon forever, and they're still waiting for Amazon to offer them a loan. How is it possible that some RA sellers are able to open account and immediately secure Amazon lending? Do you also have an account manager?
We have secured quite a bit of Amazon selling knowledge, although we don't know everything that's for sure! RA is our game and we also know our way around wholesale too. Not so much PPC, but that what helium 10 is for!

I honestly don't know how the sellers are getting loan offers from Amazon so quick. I wonder if there is a commonality between them, like woman owned or minority owned business. I've heard of those businesses getting perks, but I have no solid evidence. I can keep an eye on this subject.
Do you know any software (preferably with a free trial) that tells you how many units of a specific ASIN do you competitors still have in stock?
I have seen someone exactly knowing how many units other sellers have.
I use SellerAmp on a regular basis, it's my favorite tool hands down. It shows you stock count plus much more vital info, such as estimated sales per month.(uses keepa drops and even has a keepa graph within the app)
It's not just an app though, it also has a desktop version and a google extension. Plus, this one is way more affordable than others I know of with this kind of data analysis. And it has a free trial to boot!! Here's a link for you:
Here is an example screenshot for you showing stock count: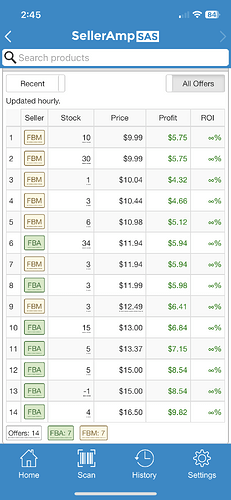 Exactly what I was looking for, thank you

My pleasure! Feel free to reach out for anything at all. I have videos explaining how to read and understand everything on the app if needed. The co-developer does a great job with her tutorial videos on the website as well

Does anyone have any websites or know places to find hot products out right now?
I have a friend who sells lead lists for OA with his company. I believe he is mostly shoes. Let him know you were sent to him by Tarrant Toolbox if you end up liking his service opportunity. Here's the link: