Only way to know is by ordering at least half a container and ship it into FBA.


Even though the profit looks decent, there are 12 other sellers in the mix, and it's only moving 25 units per month. I think I'll pass on this one.
Very good ROI but Amazon has all the buybox, so it would be hard to get any sales. Plus 12 sellers is too high for est sales of 25 per month
Amazon controls buybox, so if this 100% by amazon controlled, your all green tabs becomes worthless. Learn properly to read data, green tabs and profit margins is not full indicators for great deal pick. Graph shows when amazon out it's not selling too, so another red flags here, meaning amazon using advertising a lot on it, which your souring tool screanshot not picking up as issue…
Low velocity (only 25 per month). sales drop off when Amazon is not on the listing. I'd stay away.
Looks like lowest FBA are usually around £22-£23, so work profit out on that
would that win buy box at £23 from Amazon ?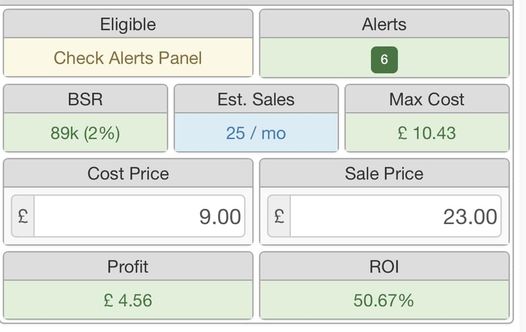 Would you want to compete with Amazon knowing you are a newbie seller?
Yes it is! I'll share the link
This is SellerAmp. Here's a link for it

This is a high risk low reward product. Too many sellers for est sales per month. Plus Amazon is controlling the buy box too much.
Usually if you want to have a chance to gain control of the buy box from the start you would need to price 20% under the lowest fba offer. Other metrics apply for buy box ownership though, such as your account rating, stock count, selling history, etc.