Elevate your Amazon strategy with ASINSIGHT – now offering a 1-month FREE trial!

Track keywords' ranking by the hour and access powerful keyword & ASIN data insights. Don't miss out!

Try it now: www.asinsight.ai/?source=amz
Highlights:
Hourly keyword ranking tracking,180 days of data- no waiting!
Comprehensive keyword & ASIN data, get in-depth insight about the traffic pattern and trend;
Unlock dominant keyword insights: spy on rival PPC strategies!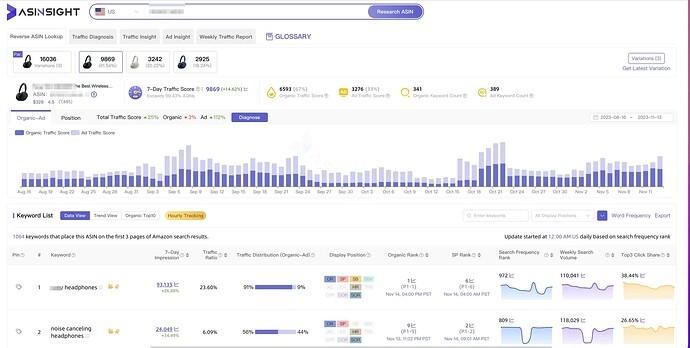 Key Features:
Reverse ASIN Lookup: More comprehensive and powerful data, no manual input required, effortlessly views keyword ranking tracking data.
Parant Variation Analysis: Instantly find and analyze all variations of an ASIN in one click.
Traffic Diagnosis: Precisely identify the sources of traffic fluctuations and pinpoint the reasons behind traffic changes.
Traffic Insight: Quickly assess ASIN basic information and traffic structure, a great tool for competitive analysis.
Ad Insight: In-depth analysis of ASIN advertising performance, helping identify the primary advertising strategies of competitors.
Weekly Traffic Report: Analyze keyword data changes on a weekly basis to easily monitor weekly operational performance.
Ad Spot Dominators: Identify top advertising performers by calculating the timeshare each ASIN occupies in advertising slots.
Ad Rotation Tracker: Replay ASINs' hourly ad placements to gain insights into competitor advertising strategies effortlessly.
Organic Rotation Tracker: Quickly track changes in organic rankings for your own ASINs and make timely adjustments to ensure stable traffic.
……