If I order from alibaba, will amazon ask to send intellectual property approval?
DON'T! They won't be licensed, for sure. You will lose ALL your money and your account.
where do you get this documents as Alibaba does not provide it
There's a good reason for that. Alibaba is where you go for fakes and unlicensed products so those documents are not available.
Do continue with Alibaba if you want to lose your Amazon account.
You won't come across any authentic licensed goods on Alibaba, especially the likes of Disney.
There are plenty of affordable wholesale suppliers if you use Google.
Actually, Disney items like this are VERY cheap to source from authorized wholesalers who will provide you proper invoices.
I don't understand why are people looking for Disney products on Alibaba.
Check out https://www.javoli.com/, this is where I source stuff like this.
Putting all the issues with sourcing from Alibaba aside for a second, have you considered how you are going to sell and/or package balloons? If they are not inflated, customers will not be happy. If they are, FBA and/or FBM shipping fees will be many times higher than the cost of the balloons. If you have to inflate them, have you considered the cost of inflation equipment?
As @Kika said, there are plenty of places to source name brand balloons. One of my USA based manufacturers is probably the largest supplier of balloons on "planet earth." I can source all these balloons from them, and receive wholesale invoices.
Why haven't I?
Because of all the problems with selling and/or shipping balloons to FBA, or sending them through FBM.
However, I did source some gift sets that include plush toys or teacher gifts, for example, that do have small inflated helium balloons that should stay inflated for years.
Actually, the sale of party accessories including balloons which are not inflated is quite common. The buyers will normally purchase equipment for inflating them. This is the same with pool floats.
I can imagine that on Amazon, there will be grumpy buyers unhappy about having to do extra work. Maybe selling balloons along with all necessary equipment to inflate them would be a smart business idea.
If the seller is new and just starting on Amazon, it is advisable to find a selection of hassle-free products that don't attract complaints.
The licensed balloons under discussion are not party supplies. Yes one would buy them in limited quantity for a special event, but they are not blown up by the buyer, They are air filled and it takes a $400 to $4,000 machine to inflate them.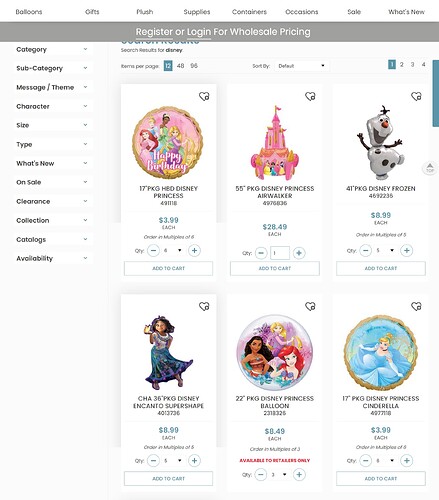 I seriously thought about selling balloons a number of years back, but the "grumpy" Amazon customers scared me away.

Anything bought for parties, weddings, birthdays, holidays, Halloweens and other special occasions would be a magnet for returns, so this would be even more risky stuff than clothing

You just described the nature of our business. We roll from one event to the next. Right now we are featuring Back to School items. Next week we'll be transitioning to Halloween.
So far we've been fortunate. Doing FBM I can't remember the last time we had a return. We are, though, still dealing with returned Webkinz from FBA. The lovely Amazon buyers stole the codes and sent them back for full refunds!

I hope you are reporting them to www.ic3.gov
This is precisely why I'd never consider selling collectibles on Amazon. I've heard of instances where individuals sold collector's Pokémon cards only to have them replaced with utterly worthless counterfeits.
I removed everything from FBA long ago when they had a free removal offer ahead of Long Term Storage Fees. By the time I got everything back, I couldn't figure out who did what.
Since some of those boxes have yet to be gone through, I'm sure there are more scams waiting for me.

While I may consider using FBA to sell some "trinkets" internationally, I would never trust them with anything of value.
eBay seems to be a better and/or safer place to sell collectibles these days. They even established a Vault for collector cards. I'm strictly sticking to selling them on my website.
I agree that eBay (and Bonanza) are the best places where to sell collectibles these days. Any site that lets you set your own returns policy is better than Amazon, where buyers can freely return anything and you have to refund them.
What ebay says regarding a seller deduction for a bad return is false. We get scammed almost every return and when it is damaged/used/not re-sellabe we take the 50% deduction. Guess what, eBay gave us a warning and threatened us for doing that.
Yes. I agree. On eBay I don't allow returns of my Webkinz.
The sellers on eBay work so hard. They create elaborate listings with actual photos, provide customer service 10-times a day (well almost). They bend over backwards to make sure you are happy, and put all sorts of extras in your package.
All this for less money than I can find things for anywhere else.
Walmart is worse. I sold a beautiful girls watch set, the customer returned a dirty box with a watch that didn't work. I had a Thank You sticker covering the price I paid at Justice Stores. The customer pealed it off and put it in a different location on her old box. They denied my claim.
What's worse? They allow customers to return your items to the store. What will the person at the return desk know about my items? Not enough to trust them to handle this.
Thank you all so much for valued insight

I agree, Alibaba is great for launching your private label but not for sourcing branded stock.