Although we still have access today we are under notice and unable to get "Seller Support" to either fix the problem or commit to providing continued access to retired MWS sections until they do.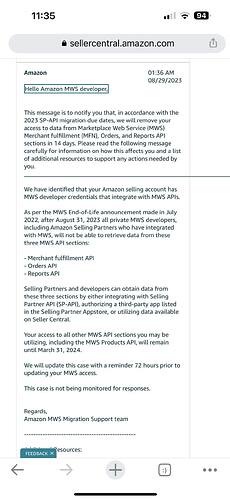 Hello Amazon MWS developer,
01:36 AM
08/29/2023
This message is to notify you that, in accordance with the
2023 SP-API migration due dates, we will remove your access to data from Marketplace Web Service (MWS)
Merchant fulfillment (MFN), Orders, and Reports API sections in 14 days. Please read the following message carefully for information on how this affects you and a list of additional resources to support any actions needed by you.
We have identified that your Amazon selling account has
MWS developer credentials that integrate with MWS APIs.
As per the MWS End-of-Life announcement made in July 2022, after August 31, 2023 all private MWS developers, including Amazon Selling Partners who have integrated with MWS, will not be able to retrieve data from these three MWS API sections:
Merchant fulfillment API
Orders API
Reports API
Selling Partners and developers can obtain data from these three sections by either integrating with Selling Partner API (SP-API), authorizing a third-party app listed in the Selling Partner Appstore, or utilizing data available on Seller Central.
Your access to all other MWS API sections you may be utilizing, including the MWS Products API, will remain until March 31, 2024.
We will update this case with a reminder 72 hours prior to updating your MWS access.
This case is not being monitored for responses.
Regards,
Amazon MWS Migration Support team