Hello,
hope you are fine. I'm facing an issue while login to my Amazon account and regarding this matter I have contacted Amazon via call and email, but I didn't receive any reply, and my issue is still same. Below is my email that I have sent to Amazon, there I have explained all the issue briefly.
Email:
Dear Amazon Support Team,
I hope this email finds you well. I am writing to address a critical issue concerning my Amazon accounts, and I kindly request your immediate assistance in resolving the matter.
Firstly, let me provide you with some background information. In 2022, I created an Amazon account with the name "Arham Enterprises" on an individual basis in the United States. Unfortunately, this account encountered verification difficulties despite my best efforts to provide all the required documents. Frustrated by the situation, I decided to abandon the account without resolving the verification problem. Therefore, I contacted Amazon and requested the closure of my "Arham Enterprises" account.
Subsequently, in 2023, I successfully created a new Amazon account under the name "LODI Enterprises" using individual details, this time in the United Kingdom. As time passed, I transferred this account to my US-based Limited Liability Company (LLC) and commenced selling on the platform without any issues.
However, a few days ago, I received an email from Amazon stating that my new account ("LODI Enterprises") has been linked to my previous account ("Arham Enterprises"). The email explicitly mentioned that I must resolve the issues with my previous account before my new account can be reinstated.
So then I called customer support, During my conversation, I specifically mentioned that I had created my second account ("LODI Enterprises") after appealing to have my first account ("Arham Enterprises") closed. To my surprise, the representative informed me that my first account was not closed but rather deactivated due to the ongoing verification process. They advised me to log in to my first account and proceed with resolving the verification issue.
When attempting to log in to my previous account ("Arham Enterprises") using the correct login credentials, it unexpectedly logs me into my new account ("LODI Enterprises"). and when I see the login details, here it shows all the details of Arham Enterprises, then I recall granting child access to the Gmail account associated with my previous account, but I have since removed that child access, hoping it would rectify the situation. Unfortunately, this action did not yield the desired outcome, and I'm not able to access it ("Arham Enterprises").
I have already reached out to both the Seller Support and Customer Support teams, but the assistance I received was not able to resolve the issue effectively. One of the Seller Support representatives suggested trying to reset the password while logging in, which I attempted, but it did not resolve the problem.
Given the circumstances, I kindly request your guidance and support in allowing me to log in to my previous account ("Arham Enterprises") so that I can resolve the verification issue as soon as possible. It is of utmost importance to me to reinstate my new account ("LODI Enterprises") promptly to continue providing reliable service to Amazon customers.
I apologize for any confusion or inconvenience caused by this situation, and I sincerely appreciate your understanding and swift assistance in resolving this matter. Please let me know if any additional steps or information are required from my end.
Thank you very much for your attention to this urgent matter, and I look forward to your prompt response.
Attachments
Arham Enterprises ScreenShots
Login SS
Seller Central Interface SS
Login Detail Page SS
Yours faithfully,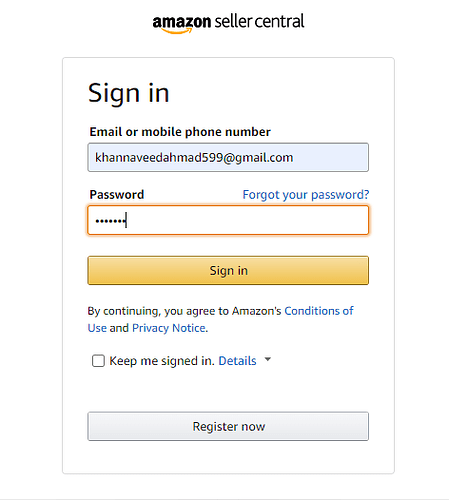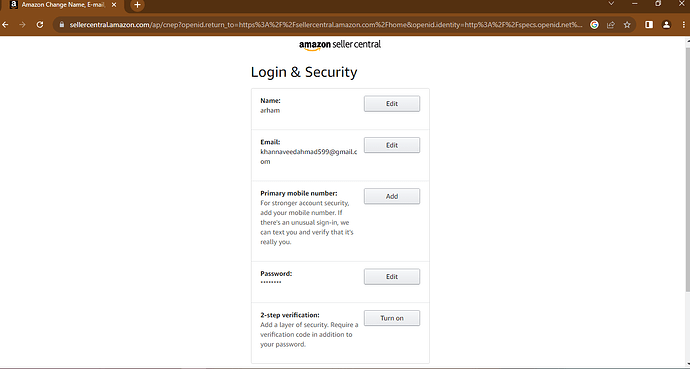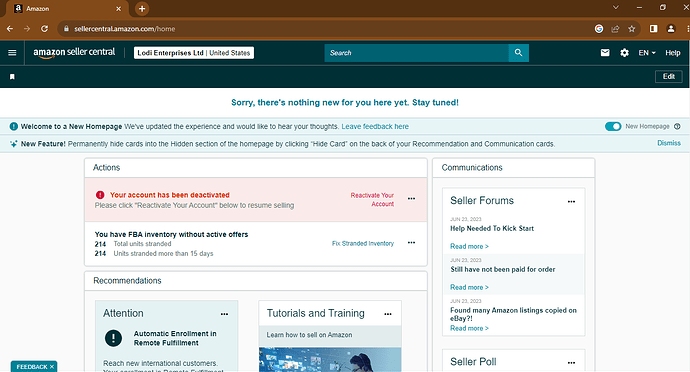 so i need help regarding this issue. @preston89
@Kika @AmazonSeller